The opening was livened up by two droplets of water from Rijeka – the mascots of the utility company Vodovod i kanalizacija d.o.o. – that handed out free 'Rijeka bottles' and promoted the trend of tap-water consumption.
The opening of the exhibition at the main promenade Korzo officially launched the week of marking World Water Day, with this year's theme being "Groundwater: Bringing the Invisible to Light", a reminder of how important groundwater is for ensuring nearly half of the world's drinking water. Groundwater research and protection as well as its sustainable management are a prerequisite for the future survival of mankind and its adaptation to climate change, and also a solution to the world's increasing need for water.

By scanning the QR code on the first station, until 28 March you can explore the exhibition while listening to the unique sounds of Rijeka's water during its daily circulation in nature, brought to you by the original audiovisual recording "The Rijeka Water Symphony" by Ivo Vičić.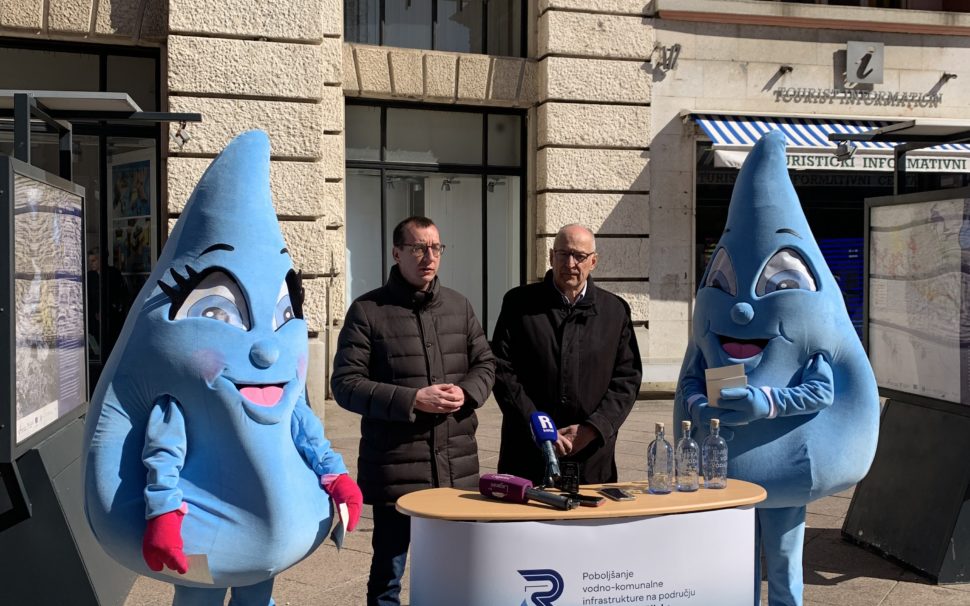 Set up on twenty stations around the city, the exhibition speaks of the importance and value of the EU project "Improvement of the water communal infrastructure – Rijeka Agglomeration" and provides an overview of useful information on the works performed as well as those to follow in the areas of Rijeka, Kastav and Viškovo, and the Čavle and Jelenje municipalities. The total cost of the project is HRK 1.76 billion (VAT excluded) and it is funded by the European Union with a total of HRK 1.25 billion.

This exceptionally complex investment provides for the construction of a second stage waste water treatment plant in Rijeka, the construction and reconstruction of approximately 217 kilometres of sewage network and 125 pumping stations with works on approximately 100 kilometres of the public water supply to be carried out at the same time.
The completion of this eco-friendly mega-project will see improvements in the citizens' quality of life and it will help meet European waste water management standards. Moreover, by increasing the connections to the public sewage system and reducing losses in the water supply system, it will contribute to marine protection and the quality of underground karst springs.